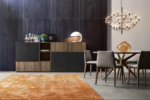 A TRENDY HOME. A HOME THAT EXPRESSES PERSONAL STYLE. A HOME IN WHICH TO APPRECIATE WHO HAS NEVER DREAMED OF FURNISHING THE LIVING AREA WITH A MODULAR SYSTEM, CAPABLE OF DESIGNING VIRTUALLY INFINITE SHAPES AND ENRICHING THEM WITH AS MANY COMBINATIONS OF COLORS, TEXTURES AND MATERIALS? IT IS THE CHALLENGE OF THE CONTEMPORARY DESIGN, WHICH FINDS PRECISELY IN THE LIVING ROOM ONE OF THE MOST ARTICULATE AND COMPLEX ENVIRONMENTS TO DESIGN, TO SHAPE THE MUCH SOUGHT-AFTER BALANCE BETWEEN COMFORT, AESTHETIC CUSTOMIZATION AND FUNCTIONALITY OF SPACE.
Therefore Modesign has developed a modular program based on expressive freedom and meticulous detail research. Only in this way open compartments, storage cabinets, drawers, TV stand systems are transformed into exclusive integrated structures tailored to the increasingly unique living preferences and habits.

"Domino" is the significant name chosen for this collection, indicating precisely its characteristics of modularity and compositional potential. An offer in line with the current trend of equipping the living room wall not only with service furniture, useful for storing and collecting objects, but also with furniture solutions that display and highlight books, photo memorabilia, technological devices: that is, everything that describes the personality of the person who lives that environment on a day-to-day basis.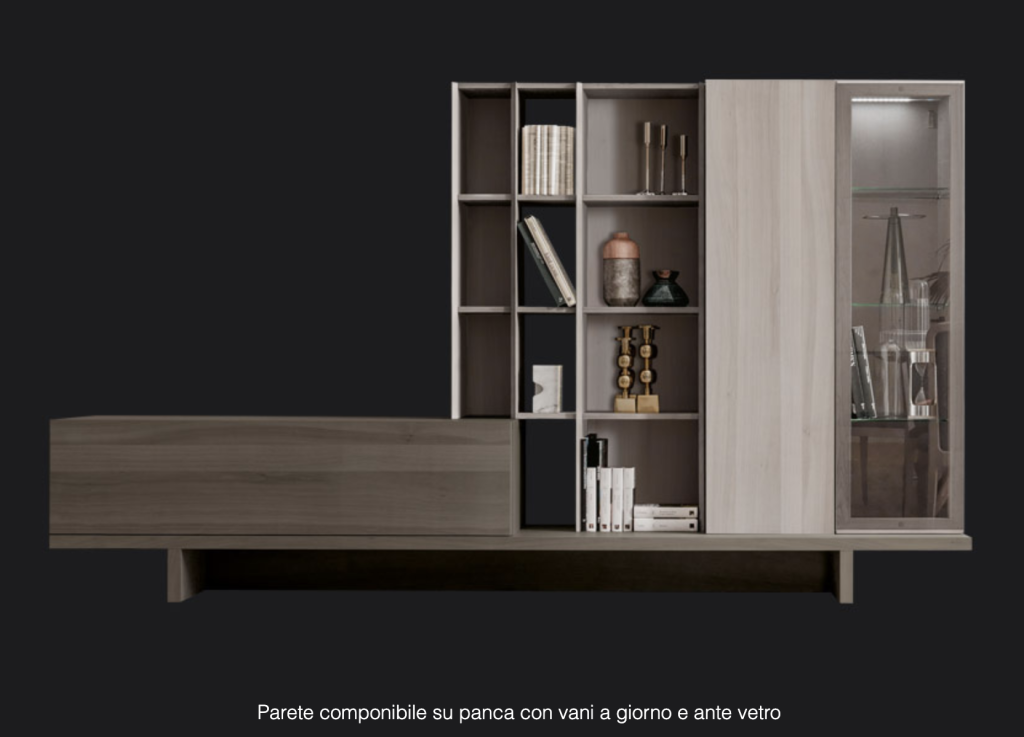 BUT THAT'S NOT ALL: COLORFUL SHELVING AND PANELS, CONTAMINATIONS OF WOOD WITH OTHER MATERIALS, SUCH AS METAL USED TO ACHIEVE DISTINCTIVE TEXTURES ON THE SLATS, MAKE DOMINO MODULAR SYSTEMS REAL DECORATIVE ELEMENTS AND THUS GENUINE STYLE TOOLS IN THE HANDS OF THE CUSTOMER.

The same applies to sideboards and sideboards: classic living room furniture is being revisited, even to the point of indulging a more contemporary taste and acquiring a prominent role in modern living room and open-plan furniture. This is achieved through compact volumes, purity of design, and creative surface finishes, such as the two-tone finish of the wooden doors, in Canaletto gray and Canaletto anthracite, the chalk finish, elm, or the graphic decor in bronze finish metal. Obviously in a modern living room artfully furnished the language of aesthetics and elegance does not even neglect the capacities and practicality, for example, equipping the furniture with very deep drawers, flap-door openings, handles designed and made especially for Modesign.
There are no boundaries to the configuration possibilities, as Domino conceives the living area as an endless series of multifunctional storage units, replicable by contrast or symmetry, suspended or resting on the base, with natural finishes or marked chromatics. The modular systems are also joined by useful additions such as tables and consoles, characterized together by small footprint and simple, yet bold shapes. Here is the great opportunity represented by Modesign's signature living design alphabet: being able to write your own text on the blank sheet of a wall or an entire living area to be furnished. Text that has the desired size, a more or less colorful language, but undoubtedly a unique style and font.